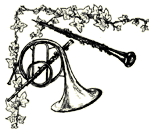 | | |
| --- | --- |
| | |
Current Programmes



All True Love
Jane Gomm - violin
Jonathan Prag - guitar
Jo Easthope - cello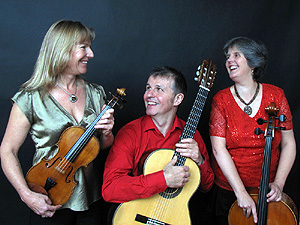 Passionate - Stimulating - Entertaining - Intimate
Romantic music, poetry & prose for violin, guitar and 'cello.
Readings from D.H. Lawrence, Laurie Lee, Byron, Blake and Burns with music by Vivaldi, Beethoven, Schubert and Granados plus two works by British composers;
Gordon Carr's "All True Love" which ingeniously entwines great love poetry with music
and Trois Serenades by Paul Lewis complete this unforgettable evening.
Vivaldi
Paganini
Granados
Sarasate
Gordon Carr
Beethoven
Schubert
Paul Lewis
Bizet
Rodriguez
Gade

Sonata in C minor
Terzetto in D Menuetto & Trio
Danza Espanola no.5
Romanza Andaluza
"All True Love"
Serenade in D op.8 Adagio - Scherzo - Adagio: Allegretto alla Polacca
Sonata in A minor "Arpeggione" D821 Andante
Trois Sérénades
Habanera from Carmen
La Cumparsita
Jealousy



A Regency Soirée
Jane Gomm - violin
Jo Easthope - cello
Clive Williamson - piano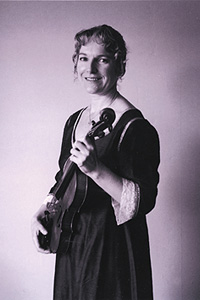 Evocative, witty and moving
Music of the period interspersed with readings from letters, novels and poems, carefully and lovingly chosen to recreate the ambience of a musical soirée in the time of The Prince Regent.
A time of transition from the formality of the 18th century to the passion and romance of the 19th. Haydn, Mozart and Beethoven: Wordsworth, Byron and Jane Austen: Mendelssohn and Schumann.
Performed in period costume
" an elegant programme .... a wonderful selection of pieces. A Regency Soiree did exactly what it said on the tin and did not disappoint, it was a really enjoyable evening"
(Sarah Agnew, BBC Reviewer, Brighton Festival)
Mozart
Field
Clara Schumann
Beethoven
Mendelssohn
Beethoven
Haydn

Piano Trio in G major KV564
Nocturne
Piano Trio op.17 Andante
Andante Favori
Song without Words op.19 no.1
Trio in B flat op.11
Piano Trio in G Gypsy Rondo



Jane Gomm - violin
Jonathan Prag - guitar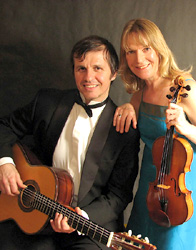 An enchanting programme from
The Ruskin Ensemble
The Baroque splendour of 18th century Germany.
The vitality and humour of 19th century Italy.
The evocative atmosphere of impressionist Paris
Seductive and sophisticated rhythms from Spain and South America
Featuring music from the opera and dance music throughout the ages, a Sicilienne, Bolero, Habanera, Rhumba, and a Tango by Astor Piazolla
Telemann
Fauré
Anon
Paganini
Massenet
Rossini

Bach J.S.
Sarasate
Piazolla
Ravel
Luiz Bonfa
Zequinha Abreu

Partita no.5 in E minor
Pièce
Romance
Sonata Concertata
Meditation (from Thais)
Overture - The Barber of Seville

Sonata in G
Playera
Verano Porteño (Tango)
Pièce en forme de Habanera
Manha de Carnaval (Bolero)
Tico Tico (Rumba)





Guitar, Violin and Cello
Vivaldi
Corelli
Villa-Lobos
Paganini

Carr, Gordon
Schubert
Beethoven

Sonata in C minor for Violin and Cello
Sonata in E for Violin and Continuo
Choros no.1
Terzetto in D

"All True Love" (Love poetry entwined with music)
"Arpeggione" Sonata - Andante
Serenade in D op.8
A beguiling programme, a journey across Italy, Austria,
England and South America.
The programme opens with the colour and sparkle of Venice,
Vivaldi's enchanting but little known sonata for violin and cello
and a charming sonata for violin by Corelli
The grace and elegance of 19th century Vienna, Beethoven and Schubert
Captivating rhythms from Brazil, Villa-Lobos Choros
and back to Italy for the Palm Court flavour of Paganini's Terzetto
Finally from England a startling new piece by Gordon Carr in which telling
snatches of great love poetry are ingeniously woven with music
Jonathan Prag - Guitar
Jane Gomm - Violin
Jo Easthope - Cello



Horn, Violin and Piano
| | |
| --- | --- |
| Duvernoy | Trio No.1 in C |
| Rzewski | Winnsboro Cotton Mill Blues (from Four North American Ballads) |
| Mozart | Quintet in E flat K407 (arr. piano, horn and violin) |
| Brahms | Horn Trio in E flat major op.40 |
Duvernoy
A classical appetiser from the opera houses of Paris
Rzewski
An amazing showpiece for piano solo which evokes the harshness of life in an American cotton mill of the 1920's
Mozart
The trio version of this ever popular horn quintet is an arrangement popularised by the legendary British horn player, Dennis Brain
Brahms
As with the great paintings of the past, romantic music has a hidden language of metaphor - explore the story of one of Brahms' most personal chamber works
See press cutting
SPARKLING TALENT IN DISPLAY OF PERFECT BALANCE

Stephen Stirling - Horn
Jane Gomm - Violin
Clive Williamson - Piano



Guitar, Violin, Viola and Cello
Haydn
Carr, Gordon
Albéniz
Schubert

Dohnanyi
Guastavino
Vivaldi

Quartet in D op.1 no.2
Dance, Song and Frolic
Under a Palm Tree: Asturias: Cádiz
Guitar Quartet in G

Serenade in C for String Trio
Las Presencias no.6 "Jeromita Linares"
Guitar Concerto in D
---
An enthralling evening of music from three centuries and six countries.
Classical elegance from Vienna reflected in Haydn's early string quartet
and Schubert's guitar quartet
From England, Gordon Carr's Dance, Song and Frolic,
commissioned by The Ruskin Ensemble, and full of character and fun
Seductive and sophisticated rhythms from Spain and Argentina,
Albéniz and Carlos Guastavino
From Hungary, the Magyar fire and passion of Dohnanyi's String Serenade
and finally ending in Venice with Vivaldi's popular Guitar Concerto in D
Jonathan Prag - Guitar
Jane Gomm - Violin
Mike Briggs - Viola
Jo Easthope - Cello



String Quartet and Horn
Purcell
Mozart
Barber
Mozart

Glazunov
Bartok
Langford

Chacony
String Divertimento in F K138
Adagio (from string quartet op.11)
Horn Quintet in E flat K407

Idyll (for horn and strings)
Romanian Folk Dances
"A Musical Odyssey" (Songs for a Thousand Years)
---
A musical journey through four centuries and across three continents

Henry Purcell, one of England's finest composers, and his Chacony for strings

Mozart's youthful string divertimento and his ever popular horn quintet,
which reveals the lyrical beauty and effervescent brilliance of the horn

From Russia, the evocative Idyll by Glazunov for horn and strings.
From America, Samuel Barber's atmospheric Adagio, featured in the film "Platoon"

A return to Europe and Bartok's Romanian Folk Dances,
full of seductive charm and gypsy passion

Finally ending with some of the finest songs of the 20th Century,
arranged for The Ruskin Ensemble by Gordon Langford

---
The popular music of one century becomes the classical music of the next

Stephen Stirling - Horn
Alison Kelly - Violin/Viola
Jane Gomm - Violin
Stephen Wright - Viola
Jo Easthope - Cello




Guitar, Horn and String Quartet
Mozart
Puccini
Boccherini
Vivaldi
Rodrigo
Langford
Horn Quintet in E flat K407
Crisantemi
'Fandango' Guitar Quintet
Guitar Concerto in D
Guitar Concerto (Slow Movement)
"A Musical Odyssey" (Songs for a Thousand Years)
---
Some of the most popular works in the Ruskin Ensemble's repertoire,
together in one spectacular programme,
and featuring the cellist on castanets during the Fandango
---


Jonathan Prag - Guitar
Stephen Stirling - Horn
Alison Kelly - Violin/Viola
Jane Gomm - Violin
Stephen Wright - Viola
Jo Easthope - Cello