May '98 and '99 - sold out at the Brighton Festival
Performed at the British Embassy in Paris and Number 11 Downing Street
Featured Live on the BBC from the Edinburgh Festival
Highly successful tour of the Netherlands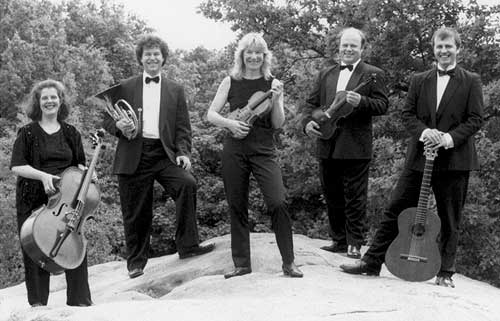 The Ruskin Ensemble was formed in London from a group of friends, talented musicians all, with whom Musical Director Jane Gomm has worked over the years. Audiences often remark about the special interaction between the musicians.
Click here for details of two exciting new programmes from the Ruskin Ensemble
A Regency Soirée

Evocative, witty and moving

Music of the period interspersed with readings from letters, novels and poems, carefully and lovingly chosen to recreate the ambience of a musical soirée in the time of The Prince Regent. A time of transition from the formality of the 18th century to the passion and romance of the 19th. Haydn, Mozart and Beethoven: Wordsworth, Byron and Jane Austen: Mendelssohn and Schumann.

" an elegant programme .... A Regency Soiree did exactly what it said on the tin and did not disappoint"

( Sarah Agnew, BBC Reviewer, Brighton Festival )

All True Love

Passionate, stimulating, intimate

Romantic music, poetry & prose for
violin, guitar and 'cello

Readings from D.H. Lawrence, Laurie Lee,
Byron, Blake and Burns...

Music by Vivaldi, Beethoven, Schubert and Granados plus two works by British composers; Gordon Carr's "All True Love" which ingeniously entwines great love poetry with music and Trois Serenades by Paul Lewis complete this unforgettable evening.
The Ensemble have given concerts in music clubs, arts centres, castles and country houses throughout the British Isles and have appeared at many prestigious venues. They are regular visitors to National Trust houses and gardens and have given many concerts for charity including Save the Children and the Welsh Wildlife Appeal. Details of these and other exciting events that have featured The Ruskin Ensemble can be found on the past events page.
Named after the Victorian writer and critic John Ruskin, the Ruskin Ensemble have also created a variety of themed programmes combining music with art or literature and performed in period costume. "Jane Austen - A Regency Soirée" was highly acclaimed by the Jane Austen Society. "The Brontëes Encountered" is an evocative evening full of drama, mystery and passion. "There is no Wealth but Life" is a special programme about the life and times of John Ruskin.
The Ruskin Ensemble are particlarly committed to taking music into the community, performing to audiences that normally do not have access to live classical music, such as small rural communities, schools, hospitals and hospices.
We hope you enjoy your visit, and would welcome all enquiries. Please contact us should you require further information about our concerts, the programmes we perform, our community work or if you are considering booking The Ruskin Ensemble for your special occasion. We would be delighted to create a tailored programme especially for your event.